Shanghai, as one of the most vibrant business cities in the world, pop-up retail format has dominated almost all its grand shopping malls of the for a decade. Nowadays, numerous brands, from food and fashion to art and smart devices, with innovative business tactics, are all seeking new exciting spaces to unleash the creativity of their brand image and products in pop-up shops or flash sales. Exclusive products are offered in a space with edgy decoration in order to strengthen the customer loyalty and expose innovative brand images to the public.
This article will give you everything you want to know about this new format of retail, as well as a useful guide to set up your own pop-up store, especially in the field of food retailing.

Something you should know about pop-up store
What is the Pop-up Store?
Pop-up stores are temporary retail spaces that sell merchandise or provide services of a large variety. In a striking opening of a shopping plaza or an eye-catching corner of a gallery, wherever there is a crowd, there is always a shop.
This format of retail generally features in its impressive appearance, limited range of products and short duration, and it is called a pop-up store. And with the advantage of its flexibility in time and space, low cost but strong customer attraction, the format of pop-up store offers considerable benefits for companies.
Who might need a pop-up store?
Regarding the features of pop-up retail, it's no doubt that pop-up store is created for people who want their brands or merchandise to have a direct interaction with its customers. There are also brands who launch pop-up stores with the intention of proving the viability in China's offline market. Pop-up stores can accomplish a variety of goals, such as to test new ideas, enlarge public exposure, create unique brand experience, launch a seasonal product or simply increase the sales capacity.
6 Steps to set up Pop-up Store in Shanghai – the Guidance
In our Blog sector, several articles have been released on successful pop-up events launched by Ladurée, a renowned French pastry brand who gave birth to well-known double-shell macarons.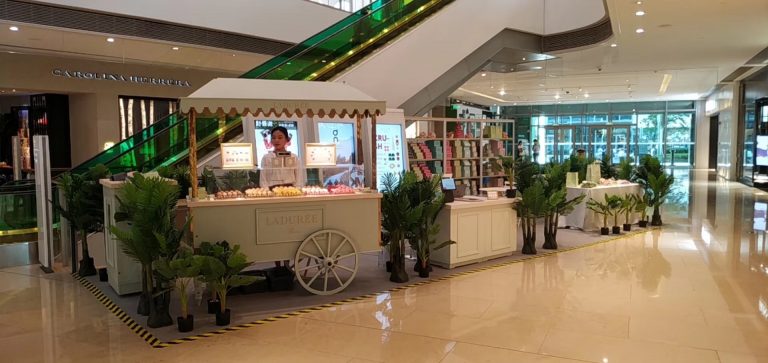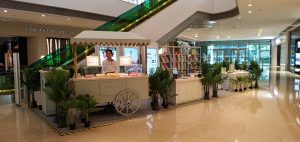 Thanks to its good preparation and organization of pop-up events, Ladurée's pop-up store has gained a positive feedback from its customers during these 2 months and have also attracted more attention from both customers and media in China's market. Its name, with the name of its venue, has become a widely referred hashtag on Meituan-Dianping China's most used platform hosting food and services reviews from customers.
Ladurée's events can serve as textual example for brands who have a prospect in vigorous China's market, but currently still seek for more public exposure.
In addition, as we all know, Ladurée's exclusive products offered in its pop-up store are mainly macarons, imported food, which indicates that more qualifications are required according to Chinese market regulations and law concerned.
In the following instructions, Ladurée's case will be adopted for specification and illustration:
Have a specific goal
As mentioned above, pop-up store can accomplish various business goals. However, plans and business tools should be applied accordingly for achieving the expected effect.
What's the most important in this step is to concretize the operation:
For those who want to go for a direct sale, but don't have a corporation in China, or the category of sales is not listed in the business scope of corporation, a partner or an agent will be necessary in order to engage in the sales. In addition, in China's market, regulations of sales differ in products, especially for food category.
Some qualifications required are listed below for you to understand the regulations under which a pop-up store can be launched, and we take food retailing as example:
Qualifications
For all brands who want to hold a temporary retail in a public space, following qualifications are required to ensure the business operation:
Business License
No matter what brand you are holding, the business license of the host company is necessary serving to show business entity to the market;
And we should notice that the food and food-relevant term must be among the scope of business on the business license.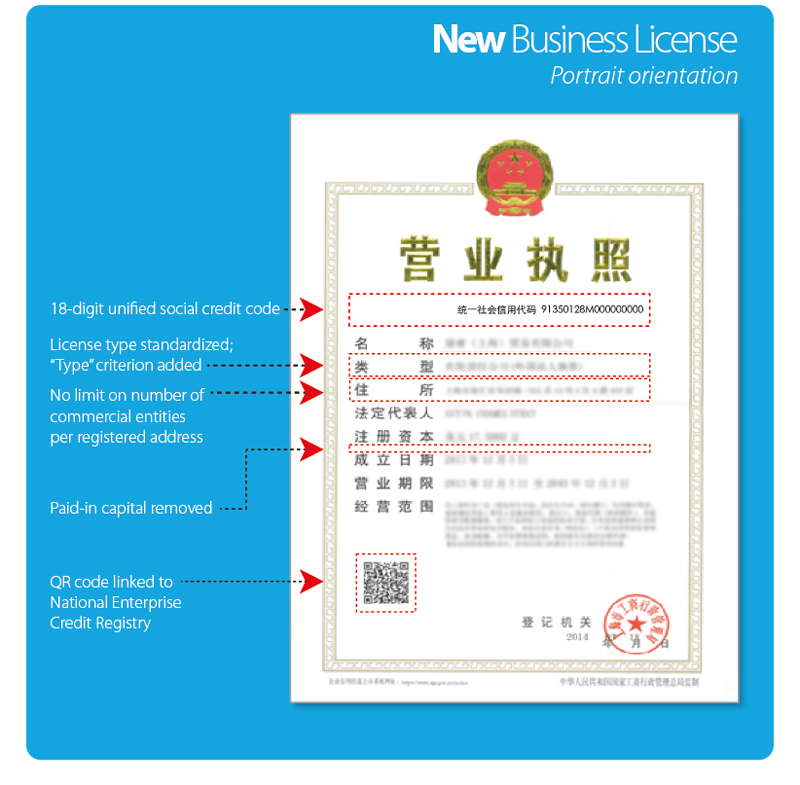 Food trade license
Whether food retailing is in your temporary commercial activities during the pop-up or in your regular business operations, you are obligated to apply for a food trade license in local State Administration for Market Regulation Bureau(SAMR).
If you are currently not able to obtain the license, BIS can help you to find a Chinese company with the entity of whom you can run your pop-up event;

Put on record
Make sure your business entity (with food in your business scope) is put on record in local State Administration for Market Regulation Bureau(SAMR) before the pop-up retail is triggered on;
In order to maintain the market order and put business under regulations, this step is demanded by the government and worthy of your full attention.
This is the formal certificate of Ladurée Pop-up store II in JAKC Jingan, Shanghai.

Venue
Find a location that attracts lots of foot traffic in your target market, since passersby are keys to the success of a pop-up shop. But before getting to that point, it is important to sort out all you want to achieve through the upcoming event, make clear of your customer group and set a budget detailed in every expense. For ideal venues for pop-up stores, please refer to our last article: The Top 8 Pop-up Store Venues in Shanghai.
Firstly, anticipate an activity effect of your pop-up store, and accordingly, make a selection of malls suitable for your brand. Choose the one who has your target customer group.
Then we can move on to the most exciting step of this part, venue negotiation. The negotiation with the venue holder is generally around following topics:
Venue price, which can be replaced in some cases by a share taken from the total sales during the pop-up retail;
The date of the lease;
Anticipate a period of time which favors the best your sales;
After signing the contract, a certain amount of deposit is required by venue holder towards the brand to ensure the use of property.
Land occupancy fees;
Insurance;
In general cases, the host of events is obligated by venue holder to obtain the public liability insurance, in order to avoid unpredictable risks for both parties.
Build an effective brand communication
Augment popularity and spread out brand image are two principal targets of a pop-up store. So, event promotion channel should be used in a cost-effective way.
Invite KOL popular on famous social platforms to use their social influence for an ideal promotion;
In the course of venue negotiation, the brand should communicate with the venue holder for a share of its public exposure resources, for example the advertisement of on social media accounts of shopping malls.
Use official account of the brand itself.
Seek suppliers for site construction
If the supplier is not designated by venue holder, it is more practical and economic to find a local partner. In most cases, you need to look for two suppliers, respectively for layout and construction, and electricity supply.
According to the regulations of malls, construction is not allowed until 10 p.m. Make sure the hours is ok with your supplier.
Whether electricians are offered or not, you should know the electricity parameters of the venue before start the construction. When it comes to electricity, every operation should 100% meet the demands of the venue and the national standards in order to guarantee public safety.
Purchase construction materials.
Recruitment
Planification of posts;
Choose effective recruitment tools;
Hold an Interview;
Draft contracts;
Collect the information of staff for record;
Pre-job training.
Please notice that, if food is concerned in your business activities, make sure that all the staff obtain a health certification.
Having helped brands successfully announce several pop-up retail events in Shanghai's landmark malls, BIS are equipped with rich experience in every stage of the operation in this trendy retail mode.
Have some crazy ideas for your brand? Want more people to know your products? Contact us, BIS is here to help you make it come true.
If you are a venue holder who would like to turn your space into a dynamic and creative business land, we can help you to find events who match the best your creative space.
After providing assistance in the operation of several pop-up events, BIS has developed expertise in pop-up operation of F&B brands, which demands a more complex approval process than events of other industries.

If you plan to open a pop-up store in Shanghai, please contact our business consultant Cindy:

Email: service@gwbma.com

Tel:  +86 15901819201